One of the very best ways to keep your car in good condition for many more years on the streets of Rapid City, Belle Fourche, and Sioux Falls is to bring it to a reputable mechanic for regularly scheduled maintenance appointments. It's important to understand just when your specific car model needs maintenance, so you can stay up to date on its important services. 
Our team at Liberty CDJRF is here to help! We've put together this comprehensive list of maintenance schedules to help you understand your car's needs. Simply locate your specific model on this page and click through to read your specific maintenance schedule to learn when to bring your car in to our excellent service department.
Jeep Cherokee Maintenance
Ram 1500 Maintenance
The Importance of Vehicle Maintenance
Throughout any car's life, it'll need a little bit of care to stay in great condition. Regularly scheduled maintenance appointments are a great way to detect issues before they can cause any problems. During these appointments, your mechanic will provide you with a number of different services to make sure that your car is in the best, safest condition.
Your mechanic will check out all of your car's systems for wear and proper function, including checking fluid levels, the braking system, and all moving parts under the hood. Any worn parts can be replaced with new ones before they get a chance to cause expensive damage, increasing your car's lifespan and saving you time and money.
At-Home Car Care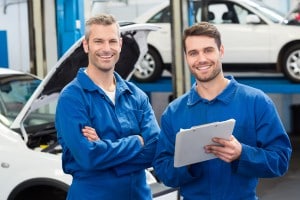 In order to really stay on top of maintaining your car's health, you can always perform some quick checks at home.
Be sure to check your vehicle's fluid levels regularly to make sure that they're topped-up and there are no leaks, including the engine oil, coolant, wiper fluid, and more. Keep an ear out for any strange sounds that occur during your drives, including squeaking brakes and knocking sounds coming from under the hood. If anything on your car ever seems a little out of the ordinary, contact your mechanic to schedule an appointment to check out the issue.
Schedule Your Maintenance Appointment
Contact Liberty CDJRF today to schedule your service appointment and stay up to date with your car's maintenance schedule. Our team will have you back on the streets of Rapid City, Belle Fourche, and Sioux Falls in no time.