The Ram 1500 is a great vehicle. However, it does need to be maintained. In order to keep running its best, your 1500 will need regular and routine maintenance to keep all its bells and whistles finely tuned. Keeping all the parts in good working order ensures that the car will stay reliable and last a long time.
Where to Go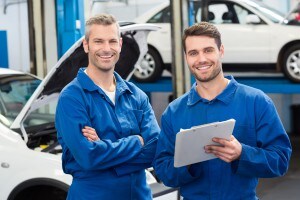 You should find an auto shop or dealership that you can completely trust. At Liberty Chrysler Dodge Jeep Ram FIAT, we have highly trained mechanics and auto workers ready to inspect your car. If you live in the areas of Rapid City, Belle Fourche, or Sioux Falls, call us to schedule a maintenance appointment. We even offer great deals and coupons for certain parts and services accessible on our website. Regular car inspections can help prevent car breakdowns and major costs later.
Maintenance Schedule
Most maintenance schedules depend on the car's mileage. If you use your Ram 1500 to tow frequently or ride on rough terrain, you should inspect some parts more often. That includes tires and brakes. These are the guidelines for your Ram 1500 maintenance schedule:  
8000 miles- Change your oil and oil filter.  This should be done for every additional 8000 miles.  Inspect your tires for wear and tear.
1600 miles- Rotate your tires even if they look fine. Inspect the exhaust system.
2400 miles- Inspect the brakes, brake linings, CV joints, belts and hoses.  Change the cabin air filter. Inspect the front and rear axle fluids are and replace if needed.
3200 miles- Replace the spark plugs for your 3.7L and 5.7L engines. Rotate your tires again. For four-wheel drives, adjust the parking brakes.
40000 miles- Inspect the brakes, belts and hoses again. Additionally, you should inspect the transfer fluid case, suspension and motor mounts. 
4800 miles- Repeat the above inspections. Inspect the front suspension, tie rod ends, and boot seals for cracks, leaks and looseness and replace if needed.
72000 miles- Change the engine filters and cabin air filters. Replace the brakes, belts, and hoses if there is some wear and tear.
100000-120000 miles- The auto transmission fluid, engine coolant, differential fluid, timing belt and spark plugs all need to be replaced.  If there's wear and tear, completely replace the tires, drive belts, brake pads, engine mount and suspension. Change the transfer fluid case.
140000 miles- Inspect CV joints, brakes and exhaust system. Inspect the front and rear axle fluids again and change if needed.

There could be slight variations on the maintenance schedule depending on the year of your Ram 1500. Check your owner's manual to ensure you're following the right maintenance schedule. Mopar's website is another great resource on car inspections and maintenance.
Your Ram 1500 maintenance schedule can be an easy process when it's done by high-caliber professionals. At Liberty Chrysler Dodge Jeep Ram FIAT, we take proper car maintenance very seriously. If you live near the areas of Rapid City, Belle Fourche, and Sioux Falls, please contact us to schedule your service appointment. We'll make sure your car remains in great condition for many years.