Liberty Auto Body & Collision

Welcome to Liberty Auto Body & Collision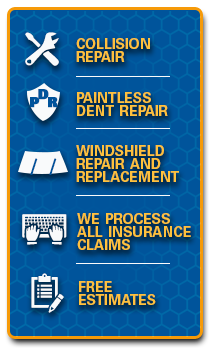 No one is ever prepared for an automobile accident unless you're into demolition derbies. However, that doesn't mean you can't be ready to put your vehicle in expert hands after the fact. Knowing where to turn in such an event is crucial to getting back on the road. Liberty Auto Body & Collision is here for you. We have a staff of highly skilled collision repair specialists dedicated to getting your vehicle back into perfect working order. Whether your recent accident was a minor collision or a more severe crash, our master level technicians will take excellent care of your vehicle. We pride ourselves on an unparalleled attention to detail that leaves no repair, big or small, overlooked.
We have state-of-the-art tools and fixtures designed to repair your vehicle to its pre-accident state. Some of our many services include collision repair, windshield repair and replacement, and paintless dent repair.
Paintless dent repair is a process by which our skilled specialists can repair a dent without having to repaint the damaged section. By using specific tools, a proficient technician can repair dents, leaving your car as if there were never any dents to begin with. The factory finish remains intact, which means there's no repainting necessary. Because no repainting is necessary, this is just as inexpensive as it is effective. To top it all off, there are no chemicals used in this process, making it an eco-friendly solution to collision repairs.
Our collision specialists are dedicated to getting drivers back in their vehicles as soon as possible and feeling confident in their good-as-new vehicle. Visit us online or in person at 225 Kermit Lane in Rapid City if you're in an accident. We can help with your collision repair needs. Call 605-791-1792 to set up your free estimate.
How can we help you?
* Indicates a required field