Gillette, Wyoming
Gillette is a prosperous town of nearly 32,000 in Wyoming and a hub of energy production for coal, oil and natural gas. Gillette College adds a vibrant quality to this community, which is home to dozens of unique local businesses. Restaurants like the 311 Lounge and shops like the Blue Butterfly Boutique attract dozens of visitors to Gillette each year and are popular hangouts for locals in town.
Welcome to Liberty Superstores in Rapid City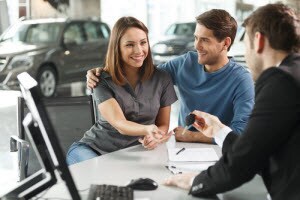 If you're shopping for a new or used Mitsubishi near Gillette, stop by Liberty Superstores to see what we can do for you. We have a wide selection of Mitsubishis for you to explore and are committed to finding a vehicle that has everything you're looking for.
Maybe you're considering a sedan like the Lancer. Perhaps you'd prefer a hatchback like the Mirage. Whatever it is you're looking for, Liberty Superstores is here to match you to a car with everything you're looking for. We know that shopping for a Mitsubishi is overwhelming, but we'll walk you through each step of the car shopping process to makes sure you feel confident in your purchase.
As a family-owned and operated dealership, Liberty Superstores goes out of its way to treat customers like our own. We want you to have a pleasant, stress-free experience whenever you visit our dealership and are dedicated to your satisfaction every step of the way. Our Mitsubishi showroom is open from 8 a.m.-7p.m. Monday - Friday and 8 a.m. - 5 p.m. Saturday, so stop by Liberty Superstores to see what sets us apart.
Mitsubishi Service at Liberty Superstores
When your Mitsubishi needs an oil change, inspection or post-accident repairs, schedule a maintenance appointment at the Liberty Superstores Service Center. Our certified automotive technicians can make any repairs or part replacements your Mitsubishi needs and are dedicated to keeping your car running like new for as long as possible.
Explore Our Inventory of Mitsubishis
For four generations, Liberty Superstores has served Gillette and surrounding communities. We are a family-owned and operated Mitsubishi dealership conveniently located in downtown Rapid City and are here for each of your automotive needs.
If you're shopping for a Mitsubishi, Liberty Superstores is here to find the perfect model for your needs. You can find out more about our Mitsubishi selection and services by contacting us online or by calling our dealership at (888) 621-8599.
Directions to Liberty Superstores
Gillette, Wyoming is about two hours from Liberty Superstores. We are conveniently located at 600 Cambell Street, Rapid City, South Dakota, 57701 and look forward to giving you a tour of our inventory.
From Gillette, head east on East 4th Street for 0.4 miles. Toward Carey Avenue.  Make a right onto WY-59 South. Follow WY-59 South for 0.9 miles. Make a left to merge onto I-90 East toward Moorcroft. Follow I-90 East for 140 miles. Get off at Exit 59 for Lacrosse Street. Make a right onto North Lacrosse Street. Turn left onto East Omaha Street. Follow East Omaha Street for 0.5 miles. Turn right onto Cambell Street and Liberty Superstores will be on your left.