Rapid City, SD
Rapid City is tucked away in South Dakota's Black Hills beneath abundant western skies. The landscape's natural beauty pairs well with the charming restaurants, shops, and museums in Rapid City's thriving downtown district.
As one of the gateways to the American West, Rapid City combines a unique culture with a rich history that dates back to the Gold Rush. Rapid City is an exceptional Midwestern city with a quaint, small-town charm that steals hearts from thousands of visitors each year. We recommend visiting the state parks just outside Rapid City, especially if you enjoy hiking, fishing, and off-roading.
There's something for everyone in Rapid City, which combines a small town's sensibilities with the allure of a large urban metropolis.
Volkswagen Dealer Rapid City SD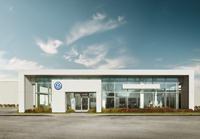 Exploring Rapid City requires a vehicle that you can rely on. Luckily, Liberty Superstores offers a wide inventory of new and like-new Volkswagen vehicles at our showroom . We want you to find the perfect Volkswagen to navigate the expansive freeways throughout Rapid City, Sioux Falls, and Aberdeen. With their innovative engineering, unmatched fuel efficiency, and advanced technology features, we couldn't think of a better choice than a Volkswagen from Liberty Superstores.
When you work with Liberty Superstores, you work with four generations of dedicated, hardworking car dealers who are passionate about customer service. Our enterprise started more than 50 years ago and has grown into one of the largest dealerships in South Dakota thanks to our blue-collar work ethic and long-term relationships with our customers. You won't be disappointed when you work with Liberty Superstores, where our customers' satisfaction comes first.
Shopping for a Volkswagen vehicle is a huge investment of time and money, so we try to make the process as simple as possible. As soon as you walk into our showroom on Cambell Street, one of our welcoming and attentive sales representatives will give you a tour of our showroom. We'll help you find the right Volkswagen for your lifestyle and price range. We'd be happy to answer any of your questions throughout the process so you can make the most informed purchasing decision.
You can browse our online inventory of Volkswagen vehicles before coming into the showroom to see if anything catches your eye. It's our goal to find your dream car, and we'll do everything we can to make that a reality.
Test Drive a Volkswagen at Liberty Superstores
Our Volkswagen inventory is one of the best in the business, but you won't believe it until you see it. Come in for a test drive today or call us to speak with a customer service representative from Liberty Superstores. We're open Monday through Friday from 8 am to 7 pm and Saturday from 8 am to 5 pm and would love it if you dropped by for a tour of our showroom at 600 Cambell Street. We look forward to seeing you!