Out on the prairie, Gillette, WY, may seem like a quiet town, but there's plenty of fun to be had there underneath the surface. For instance, the Big Lost Meadery is one of the few places in the country where you can sample authentic, handcrafted mead. Places like the AVA Community Art Center, Frontier Auto Museum, and Downtown's Avenue of the Arts also show us that artistic beauty can be found even in the midst of sprawling ranch lands.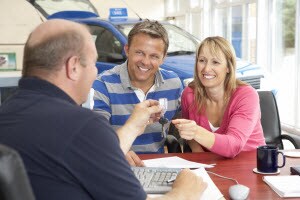 Of course, you can also enjoy some of the simpler things in life, like a deep-fried candy bar at the Campbell County Fair or your first nibble during a cool morning while fishing on Burlington Lake. You can even delve into the area's history at the Rockpile Museum or the Eagle Butte Coal Mine, both of which unearth more troves of interesting knowledge than you could ever anticipate.
Traveling to all of these great places and events means you need to have a reliable car. Luckily, there's an excellent Mazda dealer near Gillette, WY, that can offer you vehicles that are not only dependable but also a blast to drive.
About Our Mazda Dealer
Liberty Superstores in Rapid City, SD, is part of a dealer chain that has been family owned and operated for over 50 years. Three generations of Patnoes help to keep operations afloat, all of whom emphasize customer service and a simple, worry-free car buying experience.
Our knowledgeable sales staff has the latest technical details on the Mazda line's exciting performance specifications and features. Let them guide you toward the perfect car on our lot that can suit your needs.
After you find it, our helpful financing department will work with local banks, credit unions, and lending companies to find you the best monthly rate we can.
Driving home with your new Mazda also means that you can take it back to our experienced service department any time you have issues.
So from the time you step onto the lot to the time you get your keys to any time you need service, Liberty Superstore Mazda is here to ensure that you have a great experience. 
Browse Our Selection of Thrilling New Mazdas
The Mazda vehicle line is chock-full of heart-pounding possibilities. Will you choose to zip around in a stylish Mazda Miata MX-5, one of auto journalists' top picks for an affordable sports car? Or will you choose to have a bit of fun while hauling your family in an athletic Mazda CX-5? There's also a range of incredible four-door vehicles, from the top-selling Mazda6 to the razor-sharp handling Mazda3 to the diminutive but surprisingly practical Mazda2.
Liberty Superstore is your best choice in Mazda dealers near Gillette, WY, so if you're looking for any of these vehicles, come in for a test drive today! You can view our current inventory online and then schedule a test drive through our convenient contact form or over the phone.
If you need any help getting to our address at 404 Cambell Street, Rapid City, SD, don't hesitate to give us a call at 888-716-6456. We look forward to seeing you soon!